Students and staff share mixed feelings about eLearning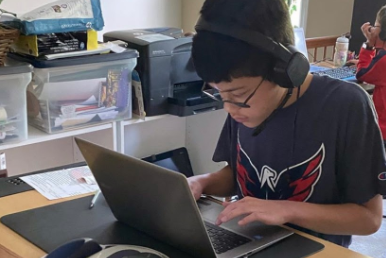 Caitlin Alexander, Lily Haseltine, Katherine Iversen, Alex Mancuso, Sophia Mancuso, Caroline McDonough, James Newman, Jenelle Thomas, Emily Wingeart, Staff Writers
October 30, 2020
During the first marking period at Crofton High School, students and staff said they had mixed feelings about online learning during the COVID-19 pandemic, and that overall, most miss the social interactions of the in-person classroom.
For some students, like freshman Lauren Brown, online learning is manageable. Brown stated that online learning is not as bad as she anticipated and that she doesn't have any suggestions. According to Brown, "Online learning is okay."
For others, like freshman Jasmine Hager, the online school experience is stressful and challenging.
"Online school does affect my mental health because it stresses me out and makes me overthink everything I turn in because I feel like I didn't learn enough about it." She has a negative outlook on online school in general "Yes, it is hard to do online school because teachers assign way more work due the next day, as if we have more time because it's online school" Hager said.
History teacher, Mr. Vincent Martirano said that he is doing alright with the new learning environment, but mentioned that many teachers seem to be struggling with breaking people into groups with the google tools.
Mr. Martirano suggested that students "double-check instructions or email questions" and that to make learning easier, students could turn cameras on. "There always seems to be that one person who puts the camera on but sees everyone else turn their's off so they turn off the camera too," he said.
Freshman Kylie Corocan said she is handling online school well this year, however, making connections with peers has been a struggle.
"The hardest part of online learning so far is building relationships with my classmates and finding the connections, and I feel to help that problem is to do more break out rooms so we can find those connections in each class."
Art teacher, Ms. Kyler Kamp said she misses the social aspect of learning as well. "I miss having side conversations with my students. Art is a social event and while we create, we talk. We're not getting this opportunity and I miss the laughter and noise of a classroom."
Others said that online learning this fall is a complete success.
History teacher Mr. Andrew Little said he finds himself being more productive due to virtual learning and taking time on breaks and after school to have time to himself.
"I find a lot of aspects easier. I don't have to make 200 copies of paper and keep them organized, and I don't have to spend time trying to read not-so-great handwriting. I'm a more efficient worker digitally." Mr. Little said.
Mr. Little also takes time for himself to be more well rounded. "I make sure to take time for myself outside of school hours, and I try to take small breaks during the day to walk around. The biggest one for me was disabling work email notifications on my phone so I don't feel pressure to check when the day is over."
Freshman Meredith Doherty said that this year is going better than virtual learning in the spring and that the schedule is working well. "This year we have scheduled class time and more interaction with teachers and students. Last year it was harder to be more productive. I would usually do all my work in one or two days, this year it's more spread out and better."
Some students said that online learning works better in some classrooms than it does in others.
Sophomore Tori Applestein said that she knows that this is a difficult time for everyone, different teachers have different expectations for their students in online learning. ¨This is such a weird year and some teachers treat it totally the same and some the exact opposite. I would definitely say I feel overwhelmed and stressed," Applestein said.
Students said the number of asynchronous assignments can be overwhelming, especially if they have questions about the assignment.
Sophomore Will Franklin shared that "it would be good for teachers [to know] that it is stressful when they post assignments outside of class time without explaining the assignment, and that we get new assignments constantly from all of our classes."