March Women's History Spotlight: Who was Ruth Bader Ginsburg?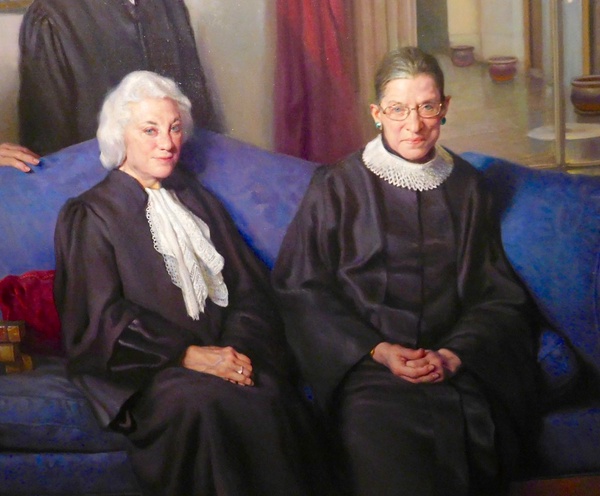 Many students cite Ginsburg as an inspirational figure, and her famous quote, "fight for the things that you care about, but do it in a way that will lead others to join you," can be found on social media pages all over the internet. 
According to Oyez Supreme Court Resources, Ruth Bader Ginsburg was born on March 15th, 1953, in Brooklyn, New York and died on September 18th, 2020. Ginsburg was the second woman in history to have served as a Supreme Court Justice. Two years after graduating at the top of her class at Cornell university in 1954, she enrolled at Harvard Law where she later became editor for the Harvard Law Review. During this time, she also cared for her young daughter and husband, Martin Ginsburg, who was diagnosed with testicular cancer in 1956. Ginsburg would take notes for her husband, who also attended law school, when he was unable to, whilst she continued her own studies. Martin later graduated law school and received a position at a law firm in New York, which led Ginsburg to transfer to Columbia Law School. She graduated first in her class in 1959.
After her time at university, she became a clerk under the U.S. District Judge Edmund L. Palmieri for two years. Subsequently, she explored civil procedure, a passion of hers, by joining the Columbia Project on International Civil Procedure. This led to her moving abroad to Sweden where she conducted research for her book on Swedish Civil Procedure Practices. Succeeding her time abroad, she accepted a position as a professor at Rutgers University Law School in 1963. Ginsburg held this position until 1971, where she became a professor at Columbia. 
Ginsburg was a professor at Columbia until 1980, when Jimmy Carter, the president at the time, appointed her to the U.S. Court of Appeals for the District of Columbia. Ginsburg served on this court for thirteen years. In 1993, Bill Clinton, the president then, nominated her to the Supreme Court of the United States. 
Preparatory and during her time as a justice, she advocated for women's rights by directing the Women's Rights Project of the American Civil Liberties Union during the 1970s, and continued fighting for women's rights while on the Supreme Court. She also played a large part in the United States v. Virginia case. Ginsburg wrote the majority of the decision for said case, which concluded that the state-supported Virginia Military Institute could not exclude women. She was also a co-founder of the Women's Rights Project at the American Civil Liberties Union. In the Ledbetter v. Goodyear Tire & Rubber Co. she voiced opinion when the majority dismissed illegal pay discrimination. Her passionate dissent argued that pay gaps are dissimilar from any other form of discrimination. Justice Ginsburg argued that the majorities' interpretation of Title Vll (which discuses the prohibition of discriminations based on race, sex, religion, and nationality) was opposed the purpose of the title. 
"When I'm sometimes asked 'When will there be enough (women on the Supreme Court)?' and my answer is: 'When there are nine.' People are shocked. But there'd been nine men, and nobody's ever raised a question about that." – Ruth Bader Ginsburg
Ginsburg was undoubtedly an inspiration to many who accomplished much during her lifetime, however she did not do so without struggle. During her time at Harvard Law, she was one of nine females in her class of 500. Ginsburg faced gender discrimination from even the highest levels of authorities. She was rebuked for taking a man's spot at Harvard Law. After graduating law school, despite her exceptional academic record, she found it profoundly difficult to find a job. When she was offered jobs at law firms, her pay was lower than her male counterparts. According to the ACLU, she was recommended for a clerkship for Supreme Court Justice Felix Frankfurter by a professor at Harvard Law, Albert Sachs, however Frankfurter announced that he wasn't willing to hire a woman. During her time at Rutgers Law School, she discovered her salary was significantly lower than her male counterparts. As a result, she joined an equal pay campaign which consisted of other women 
Ruth Bader Ginsburg was a pioneer for Women's rights who will be forever remembered as an advocate for gender equality  and someone who stood strong for their beliefs.