Teacher Feature: Tech Ed and PLTW Engineering Courses Teacher Ms. McLeran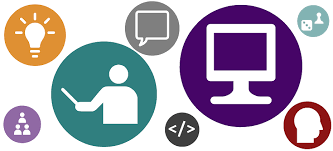 Ms. Jen McLeran is a PLTW Engineering Course and Tech Ed teacher at Crofton High School. She started teaching at Howard High School in Howard County, where she taught Tech Ed and PLTW courses and then taught Tech Ed at Arundel High School before joining the CrHS staff.
Ms. McLeran said there are so many reasons as to why she wanted to work at Crofton High School. "It's a beautiful, brand new building designed by an architecture firm I used to work for," she said.
Ms. McLeran also gets the opportunity to start a PLTW Engineering program from the ground up, and she explained that she is excited to help determine what electives are offered in her content and be part of a wonderful community. "The commute between my house and the school is much more pleasant," she added.
Ms. McLeran's educational background is in Engineering and Architecture, and her work experience often collaborates with Engineers. "I also really enjoy teaching tangible skills and the project-based aspect of much of the Tech Ed and PLTW programs," she explained. This is why she wanted to teach Tech Ed and PLTW Engineering courses.
She earned her undergraduate degree at Georgia Tech and her Master's at Virginia Tech.
Teaching seemed an obvious avenue for sharing Ms. McLeran's experiences and skills with the next generation when she, unfortunately, lost her ability to draw or type on a computer all day long, due to Carpal Tunnel Syndrome. She says teaching is also "in her blood" because most of her relatives on both sides of her family are or were teachers or educators: her mother, her grandfather, her grandmother, three aunts/uncles, and four cousins. Ms. McLeran also said, "Wherever I was, I always gravitated towards a teaching/mentor role: in an office, I was always the one showing the interns the ropes, and in both undergrad and grad school, I was handed jobs as a teacher's assistant."
Ms. McLeran said online school this year has been very interesting but in a good way. She explained that she's always thrived on new challenges and that she feels "The growth that we've all experienced adapting to this new way of teaching and learning has been amazing to watch and experience."
According to Ms. McLeran, colleagues, the administrative team, and all of her students have been very generous with sharing what they've learned and making trying new things possible in this unusual situation. "We're still working hard at it, and we all keep getting better. Truly amazing," she said.