Teacher Feature: Ms. Gresko teaches Chorus, Citizenship, and Music
Ms. Briana Gresko is the Chorus teacher, community citizenship teacher, and is the vocal music club teacher at Crofton High School. Before coming to Crofton High, Ms. Gresko taught at Southern High School, Arundel High School, and Magothy Middle School.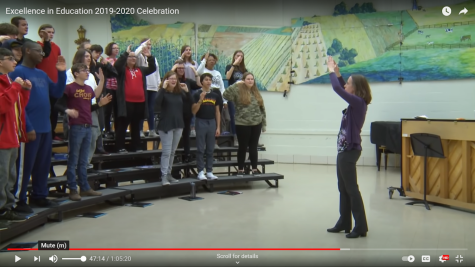 Ms. Gresko worked to get her Bachelor of Science in Music Education at Duquesne University and received her Master of Arts in Music with an emphasis in Choral Conducting at Mansfield University. "I've completed additional graduate coursework in Hungary, in West Virginia, in Minnesota and online." In 2014, Ms. Gresko achieved National Board Certification. 
Ms. Gresko is the piano accompanist for the Voices in the Praise community youth choir. She shared "I've also collaborated as a lyricist with composer Christopher Fox, and we have 3 published pieces and 2 current commissions!"
Crofton's community and music program drew Ms. Gresko into Crofton High School. "I wanted to be part of building a beautiful, strong music program with the wonderful students here," stated Ms. Gresko.
Ms. Gresko wanted to become a teacher to help students find their voice through music just as she had. Her favorite moments in her class are when her students go outside their comfort zones. "Whether that's when literacy and coordination finally click for a piano class student or when my choir students earn Superior rating at district/state assessments," Ms. Gresko said.
Madi Knoppel is a 9th grader at Crofton High School. She has Ms. Gresko for global community citizenship and chorus. Knoppel says her favorite thing to learn from Ms. Gresko wasn't in her class, but rather in her club when they were working on a song that Ms. Gresko had written. "Learning in her class is really easy because she makes sure that everyone understands what we're learning before we move on," said Knoppel.
9th grader Bailey Santoro has Ms. Gresko for chorus. Her favorite thing to learn about in Ms. Gresko has been her vocal technique and the new songs she is helping the class learn. "Ms. Gresko is such a positive person," said Santoro. "She gets me so motivated in the morning and is so much fun to talk to."
From Chorus and Vocal Music club to Community citizenship, her students have stated that Ms. Gresko makes the class so much fun.