Crofton High School Starts First Fall Season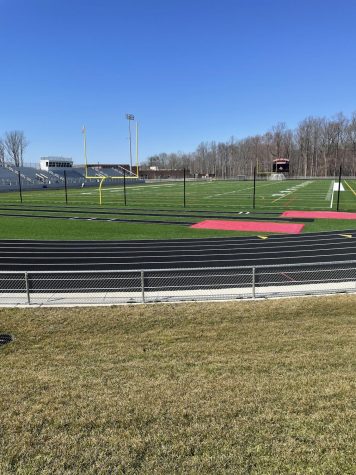 It has been a year since high schools in Anne Arundel County have competed against each other, but on March 22, fall sports start their competitive season, which runs until April 17. Athletes said they are very excited about the start of their season and coaches have been busy preparing their teams for success. 
Crofton High School's first-ever football game will be March 27. This is a very important event for Crofton considering that our community worked so hard to get Crofton High School built. The first Crofton High sporting event is a golf match that took place on March 22.
Ninth-grade student Emily Nagarian participates in field hockey in the fall and she and her team are getting prepared for the upcoming season. "The coaches are engaging and preparing us by not only giving personal feedback but allowing for teammates to meet and bond with each other on and off the field," she said. With all-new Crofton teams being built, Nagariansaid "even though we are only freshmen and sophomores there is some real skill on the field."
 Ninth-grade student Paeton Norsworthy is a part of the first-ever Crofton High School football team. He is happy with the team and said "Coming into a new high school, I think that the football environment that has been created is great and very organized." The football coaches are "engaging and preparing us by putting us through drills, and giving us many new plays that will be used to outplay our opponents" Norsworthy said. The team is very excited for their first game and Paeton adds "I am so ready for our first game and cannot wait to get out on the field and play!"
Mr. Pat Carey, the boys' soccer coach, said he is looking forward to this season. "I am excited about the opportunity to actually play games, but more importantly, giving the athletes a chance to see what high school soccer is like to prepare them for a successful varsity season next year, as well as getting to know the players and seeing how they interact with each other as a team," he said.
"Lately the team has been working on many different drills and many different variations of drills that can make them much easier, or much more advanced as we become better at those specific skills or tactics that we are continuously working on," said Coach Carey. The soccer team's first game is March 25 at 4:00 p.m against Severna Park.
Ninth-grade student Grace Grizzell who is on the girls' soccer team is excited about the "competitive and team atmosphere that comes with the actual games." Her coaches have been preparing the team for competition by practicing game-like drills and ending practices with scrimmages. She pointed out that because they are a brand new team, they will be challenged, but she believes that her team will hold their ground. She says that the team is bonding and looking forward to the start of the season.
Ninth grade student Emmett Kloss who is an athlete on Crofton High's boy's soccer team is excited to see the team's "work at practice come together for the games." He said that the team will face some challenges, but he believes that they have a good chance to be strong competitors this season. In preparation for the competition, his coaches have been working with players individually and pushing the team to improve. Kloss said he is excited to be a member of Crofton High's first soccer team and the team is looking forward to their first game.