Crofton High's Boys JV Soccer defeats the South River Seahawks 1-0
After beating the Arundel Wildcats last week, Crofton High School's Boys Soccer Team (2-1) played their second home game on Tuesday. They came out with a win against the South River Seahawks (1-1-1) with a final score of 1-0.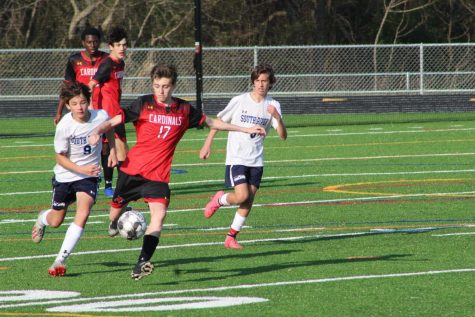 With 0:33 left in the first half, Crofton sophomore Jaiden Correa scored a goal with an assist from sophomore Drew Gentile. The Cardinals played a strong defensive game, however, they had trouble finishing in the final third. 
Crofton freshman Nick Versis, who is the soccer team's goalkeeper, said that "getting a win against their new rivals felt amazing."
He said the team worked well together and had good communication which led to overall strong performance. However, he believes the team had a hard time building courage and they should work on confidence and bravery before their next game. Versis said he is excited to continue improving with his team and he is looking forward to what the future holds for them. 
Crofton freshman Jack Woods said he "felt good knowing the team worked hard and didn't give up." He said that the team played a good game overall and that they made good runs and moved off the ball well. He believes that the team's biggest challenge was clearing and heading the ball. Woods is excited to see how the team performs in the next game which is a home game against the Southern Bulldogs on Thursday, April 8th at 4:00.