"Fearless: Taylor's Version" Review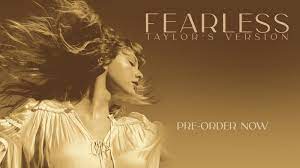 Taylor Swift has outdone herself yet again. 
The queen of the music industry herself has re-recorded all of her second album, "Fearless" and released it only months after the release of "evermore." In less than one year, she has released 3 albums, two of them exploring a completely different genre than what she has done before.
In addition to all of her songs that were originally in "Fearless," she released some of her songs that didn't make the cut for the original release. This album is a testament to how timeless her music is. Among the rest of her amazing songs that are "from the vault," "Mr. Perfectly Fine" is a musical masterpiece. TikTok has been raving about the release of "Fearless," and for a good reason.
Taylor Swift's music has had a massive impact on many people's lives. Many famous artists, including the iconic Olivia Rodrigo and Conan Gray, have been inspired by Taylor's music. 
I've been listening to Taylor Swift's music as far as I can remember and she has always been an inspiration for me. I grew up scream-singing "You Belong With Me" as I drove in the car with my mom, so now learning that Taylor Swift finally owns her music is inspirational and makes me admire her even more. 
This album is a masterpiece of nostalgia and musical brilliance. As a Swiftie on Twitter once said, "Covid works hard, but Taylor works harder."