The Invisible Life of Addie LaRue; a story of sacrifice, desperation, and love.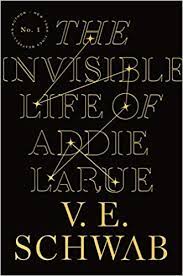 The Invisible Life of Addie LaRue, by V.E. Schwab, mainly focuses on the perspective of Addie LaRue, however also includes chapters from the perspective of Henry, the boy who remembers.
Addie LaRue was born in Villon, France, in 1691, and Addie is the only one who knows this, minus Luc, the devil disguised as the man she sculpted from her imagination. On a desperate night, she called upon the old gods to save her from her future; a life stuck with a man she did not wish to marry in a town too small for her who wished to see so much more. She offers her soul in exchange for limitless time and freedom. However, Luc twists her words and grants her eternal life and freedom which came at the cost of no one remembering her.
The moment Addie leaves a room, she is forgotten. This includes her family which doesn't recognize her once he curses her. Centuries pass and the only constant which remains in her life are visits from Luc. They are at random, often decades in between each visit, however, they are the only perpetual factor Addie can rely on. She is unable to leave any trace of her behind, leaving her feeling as if she is a ghost. The only impact she makes is as a muse for artists who paint or sculpt hers in ways they see fit. That is until she meets Henry, whose story adds an unexpected twist to her life.
The Secret Life of Addie LaRue is the perfect novel for those who enjoy romance, history, and fiction. The lengthy novel describes her life in great detail as she lives centuries remembered by no one.
The story is based in Villon Sur Sarthe, Le Mans, and Paris, France, as well as, New Orleans, New York, Florence, Italy, and countless other spots around the globe. The book ranges from Paris before the luxury white architecture to the time of prohibition in speakeasies in New Orleans.
The Invisible Life of Addie LaRue tells the story of Addie as she experiences complete bliss as well as suffering beyond imaginable. The book describes her delight as she strolls through central park, her nostalgia as she visits her hometown, and suffering as she feels completely isolated. Addie's witty interactions with Luc are shared. His visits range from leaving her in anguish to leaving her in moments of contentedness. If you are looking for a book that explores concepts of love, purpose, and human interaction, I would highly recommend The Invisible Life of Addie LaRue.