Met Gala: All Hail or All Fail?
The Met Gala is one of the most important events in the world of fashion. The cameras flash and everyone strikes the pose that is the true accessory to their outfit. But was it all sparkles and smiles? With the flashes came shock, confusion and even terror. The theme being "In America", it was a big question as to how well people showcased it in their wardrobe. Some people blew us all away, yet others caused us to look the other way. But the real question is: who was the star of the night? 
When the term "In America" comes up, you probably think of patriotism, red, white and blue, eagles soaring, but most all, self expression and freedom. At first glance, it is very obvious that some people showed off the true essence of this theme. One of the most spectacular representations of America was given to us by popular rapper and singer Lizzo. Wearing her bold pink gown bordered with feathers, designed by the talented Marc Jacobs, it's no secret that she knows what this country means. Pink is a statement color and a risky choice for this type of event, and is very powerful. Not everyone can pull it off, but there is no debate that she did magnificently. Along with the on brand color choice, she chose feathers as the border of the dress. Most likely referencing the eagle, being our country's national symbol, this was a reasonable choice to really show what America was all about. Strutting down the carpet, she really went above and beyond with her presence for the evening.                                                                          
On the topic of amazement, there were certainly other public figures that blew our minds with their choice of fashion, and one in particular was none other than the extraordinary poet and writer, Amanda Gorman. Her poetry is already inspirational, and her look was the cherry on top of that sundae. Based on the Statue of Liberty, Amanda expresses true femininity as she gives us her own interpretation of the monument. She wore a gorgeous navy blue center-cut gown by the famous designer, Vera Wang, with rhinestones splattered across it to give it her own personal touch. Along with the breathtaking dress, she pairs it with an amazing depiction of the book held in the statue; which she has turned into a clutch. We were speechless when we saw her step onto the runway. Hopefully running for president, (which would literally make me cry) no one was surprised that she nailed the American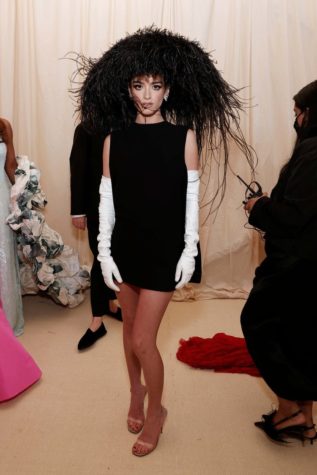 Although we were amazed by many people and their appearances for the gala, there was no shortage of others that didn't get the memo. It's an obvious starting point with Dixie D'amelio. She showed up in a black mini dress, white satin gloves, and a feathered hat that you can see from a mile away. Apart from her highly discussable wardrobe, there was a lot of controversy as to why she was invited to the gala to begin with. Being a social media star, it is common to not consider Dixie as a true celebrity. While many people see her talent, it is argued that the guest list of the night included people who had years of experience and work to get where they are now, and blowing up overnight was not in their repertoire. But aside from that, her look was very questionable. Black is not a color that screams USA and yet she chose it for her baseline. The dress may have worked if it was paired with the proper accessories. The white gloves actually could have made the cut, but the minimalist aspects of the outfit were not exactly appropriate for the occasion. The feathered hat left confusion and curiosity as to how it fit into the American idea. The black clutch matched the outfit, but the outfit did not match the night.   
While black is on the subject, let's discuss another look that didn't meet our expectations. If you are in the fashion world, then you are definitely not unfamiliar with Kim Kardashian West. A fashion and makeup icon, she always has all eyes on her. Everyone was so eager to see her way of expressing American culture. But we were taken back as she came dressed from head to toe in black. Sure the gown itself looked very powerful and fierce, created by Balenciaga, but the color choice, along with Dixie, didn't make the cut. America is all about color and diversity, but with this look you don't seem to get that message. Being in all black, it seemed to shut out any other possibilities, which is everything we try to avoid in America. She also had a $10,000 dollar ponytail that ended up blending in with the rest of the outfit, becoming useless. Then again, nothing is too expensive for Kim Kardashian West.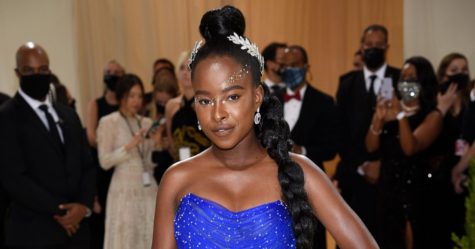 And now, for the big question: who was the star of the night? Well I think we all know. Amanda for president 2023.