Teacher Feature: Mr. Smith teaches APUSH and Directs Plays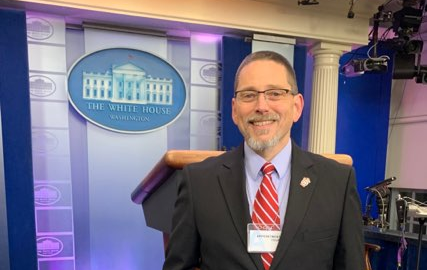 Mr. Todd Smith is an AP US History teacher here at Crofton High School. 
After graduating from Phillipsburg High School in New Jersey, he went to Trenton State College for his Bachelor's degree, and to North Carolina State for his master's. After starting a doctoral program at American University, he decided to become a teacher instead.
Growing up in New Jersey, Mr. Smith said he loved Social Studies. "The reason I became a history teacher was because it was the only class I got straight A's in!" 
Mr. Smith was the department chair for history at Southern High School for 16 years. Aside from teaching history, Mr. Smith is the artistic director of Crofton High School's first play, Pride and Prejudice. "I'm really grateful that Mrs. Feurheurd named me one of the directors," he exclaimed.
Sophomore Caroline O'Neil plays Elizabeth Bennet in Pride and Prejudice. 
"I love how engaging he is in everything that we do," O'Neil said, about Mr. Smith. "He always has a joke to crack to make things more easygoing, and he will always make it perfectly clear what he wants from you as an actor. I've personally loved getting to work with him, and even though it's only been two weeks I've learned so much!" 
Freshman Ava Strong has Mr. Smith for AP US History. She said she loves how Mr. Smith goes in-depth about topics she didn't know before. "I like his teaching style, and it is easy to pay attention in class." Freshman Hailey Smith, who is not related to Mr. Smith, also has Mr. Smith for APUSH, and agrees with that and said, "he is good at explaining!" 
Mr. Smith said he wanted everyone to know that he is "thrilled to be here, in Crofton, working at a school to serve my community. It's a really important responsibility, and I'm happy to be here!"