Red (Taylor's Version) is so Much More Than Another Album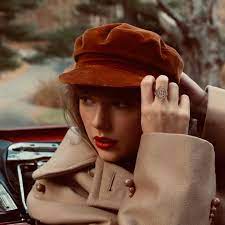 Taylor Swift, the singer-songwriter who has earned the title of legend, has re-recorded and re-released her fourth studio album Red, now in the form of Red (Taylor's Version). This updated version of the borderline pop album contains eight new songs (from the vault, as she refers to it) along with the 22 other songs from the original soundtrack.
Released on November 12 along with a fifteen-minute short film, this album has broken multiple streaming records and sold over half a million copies within its first week. Accomplishments such as these are nothing new to Swift, but this time around, it means something different. 
In the summer of 2019, Swift's former management company Big Machine Records sold her masters (the original versions of her music) to Scooter Braun for $300 million. Swift had lost all rights to her first six studio albums, which she wrote and recorded over the span of eleven years. She was not given a fair opportunity to buy her music; instead, her former label offered her a deal in which she would be forced to record a new album in exchange for the rights to an old one. Braun, who manages many artists who have publicly taken a stance against Swift in the past, denies all claims of sinister actions. 
Taylor Swift announced that she would be re-recording her first six albums in August of 2019. Beginning with Fearless, Swift has begun to release her versions of her original albums. Now, we're in the era of Red (Taylor's Version) and Swift is breaking records daily, and a ten-minute version of her song All Too Well is sitting at #1 on the charts. 
Adding "Taylor's Version" to the end of her album titles might not seem like something of huge significance, but in reality, this addition officially claims Swift's music as her own. Everything about her re-recorded albums screams Taylor Swift — the production, the lyrics, and the tracks included that didn't make the original cut. 
These re-recordings allow Swift to produce her music how she sees fit. It's been discussed in recent years how much control her label had over her sound, and her efforts to defend any changes in her music. Big Machine did not want Swift to go pop; without a fight, 1989 would never have seen the light. 
Swift has fought for artist rights for years now — she famously pulled her discography from the popular streaming service Spotify until proper royalties were paid to artists on the platform. Her boycott lasted for three years. "Taylor's Version" and how it came to support other artists' push to own their music. Swift also advocates for better artist contracts and rights within the music industry. 
Taylor Swift has undeniably helped shape the music industry worldwide for years. Her music has always been relatable, hurtful, and deep. "Taylor's Version" is even more personal than before, and symbolizes more than just the music. Red (Taylor's Version) is available now on most streaming and purchasing platforms.