The pro and cons of Gilmore Girls' Logan Huntzberger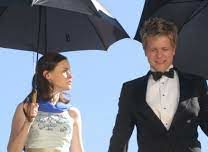 I think we can all agree none of Rory's choices for a boyfriend were all 100% perfect, that's why there is a debate on everyone's favorite boyfriend in Gilmore Girls.  Near the end of the show for the last 3 seasons Rory's love interest is a boy she met from Yale named Logan Huntzberger, he was not perfect but you can't say he didn't love her. My personal take on Logan: He loved her, but he wasn't the perfect fit for who she wanted to be. 
Here are pros and cons of Logan Huntzberger. 
When Logan first appeared on the show Rory did not get a good first impression of him, she felt he was being rude to one of her close friends. But he wasn't shy to send a flirty comment her way. There was a special kind of tension between them from the beginning. Rory said she was a "girlfriend girl" but changed her stance on that just to be something with him and they began to casually date. But she realized she couldn't handle it and was fine with just being just friends. He decided to go exclusive with her just to keep her, which he said he had never done before but was worth the risk. 
When Rory dropped out of Yale he didn't try to support her to get her back in, he just treated the situation like some joke knowing she belonged there, even though it was his father's fault for this happening. 
Logan was never good at communication with Rory, this led to fights happening and caused breakups or Rory feeling upset or sad.  When he didn't tell Rory about spending a year in London after college, knowing she was excited to plan a trip together. She had to find out on Valentine's day weekend from Logan's dad screaming at him. 
Logan got extremely jealous of Rory's ex-boyfriend when he came to visit her and tell her about his book. He got very territorial and was rude to Jess. This led them to a fight Rory thought they were on a break, but she got a phone call from Logan's sister saying how she was sad they broke up. 
Rory finally gets her life back together, reunites with her mom, and returns to Yale. Then he shows up again, fighting for her, and they get back together. The whole situation was messy but he did really care for her and he went through a lot just to get her back. 
He and Rory did have a fun relationship. They would go out and hang with friends and you can see in many scenes she was happy. But, on the other hand, Logan took some of his stress and anger out on Rory, and it wasn't fair to her when she just wanted to help and be there for him. But the two were in love. While he was away for work he maintained their relationship, he would come home and surprise her and they would just be with each other.
Logan really loved Rory, while there may be some argument that he changed her it doesn't mean he didn't love her. He asked her to marry him. He told everyone how she amazes him and he loves her and wants to be with him forever. But she was not ready to marry him. So they ended things. 
Ending things may have been the right choice because it leaves her room to figure out what she wants in life.