Anthony Doerr's All the Light We Cannot See Brings a Beautiful Perspective of WWII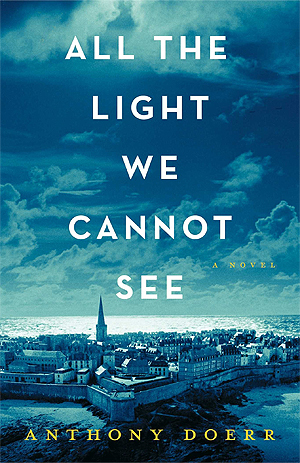 Anthony Doerr is the award winning American author responsible for the masterpiece that is All the Light We Cannot See. Some of Doerr's other works include Cloud Cuckoo Land, Four Seasons in Rome, Memory Wall and The Shell Collector, which is also a movie. 
Winning three awards, including the Pulitzer Prize for Fiction in 2015, All the Light We Cannot See is a historical fiction book that vividly juxtaposes two storylines in World War II. One, a blind French girl and her experiences after she escaped Paris to her great Uncle's house in Saint Malo. The second, a boy from a small mining town in Germany who was recruited to help German efforts in the war.
Through Marie-Laure LeBlanc's perspective, Anthony Doerr does an incredible job describing the unique perspective of a blind girl in the 1940s. Articulate and eloquent descriptions through her other four senses guide readers through an insightful understanding of her circumstances . Doerr also goes through beautiful themes of friendship and family that are important to Marie-Laure's character and development. 
Marie-Laure's father, Daniel LeBlanc, is her rock in life. After losing her sight early on, her father has always been the one person she could rely on. When Germany invaded Paris in 1940, and the pair fled to Saint Malo, Marie-Laure turned to her father for comfort more than ever. When Daniel LeBlanc is taken away, Marie-Laure must adjust to the drastic change. As Marie-Laure learns to manage the world without him, alongside her unstable great Uncle and his motherly housekeeper Madame Manec, she finds comfort where she least expects it, and Doerr has a charming way of sharing it. 
Werner Pfennig also brings a different storyline that not many World War II novels offer. Pfennig grew up in an orphanage with his sister Jutta, never feeling like he fit in with the other German boys. 
Throughout Werner's story he faces experiences that present him with conflicting thoughts. From his childhood friend's kind Jewish neighbor, to the violent bullies he encounters when training to be a part of the German military, readers get to follow along Werner's mixed emotions as he struggles to grasp whose side he's really on in the war, and if he is doing the right thing. 
While living two very different lives, both characters are curious, caring, thoughtful and leave readers wondering how and when the two characters' stories will be connected. This is truly a magnificent book that belongs on everyone's shelf.