A Binge-worthy Piece: Ratched Season 1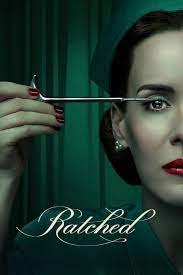 Ratched is a fantastic and short, suspenseful eight-episode series that is complex and leaves watchers wishing for more. The show takes place on the beautiful and untamed California coast in 1947. Sadly, this takes place in a time long before more horrific treatments of the mentally ill were outlawed. However, St. Lucia hospital was renowned across the state at the time by many, including the governor, for its "progressive" treatments like lobotomies and hydrotherapy. 
The protagonist Mildred Ratched is a young nurse who wants to be employed at St. Lucia very badly, insisting on meeting with Dr. Richard Hanover, the head of the hospital. She even forges a letter saying that they had one scheduled. There is a reason that she wants to work there, though, and it's not just because she's interested in becoming a nurse…
Mildred is a confusing character, to say the least, and at first glance, many would be convinced that she is a psychopath without a doubt. She finds herself trying to protect her family while at the same time being obligated to help the hospital. The complexity of this show, though, is what makes it so fantastic to watch, leaving the audience wanting more. 
Mildred Ratched is played by the famous Sarah Paulson, and she puts on a fantastic performance that makes her the perfect person to play the mentally unhinged Nurse Ratched. The doctor, Richard Hanover, is played by Jon Briones, who captures the untrusting and callous nature of the character very well. Mildred Ratched's brother is played by Finn Wittrock, and he will become important later as you watch the series unfold. 
While the show is pretty great to watch, there are some things that I disliked about the series. Ratchet was pretty slow at the start, and the plot took a long time to actually start moving. The show also lacks the horror aspect and thriller elements that were expected by the writer, Even Romanosky. However, with its great cast and appealing story, I would still recommend that you watch it. 
Ratchet is a great show to binge on and provides some insight into the conditions at mental hospitals at the time. However, there is much more than that in the series. Love, fear, and betrayal are all present in this emotional rollercoaster of a show. However, watch this show with caution as there are themes of mature nature which may trigger some who are sensitive. This short and suspenseful series is very good to watch.