Crofton Women's Basketball Team Reflect on Current Season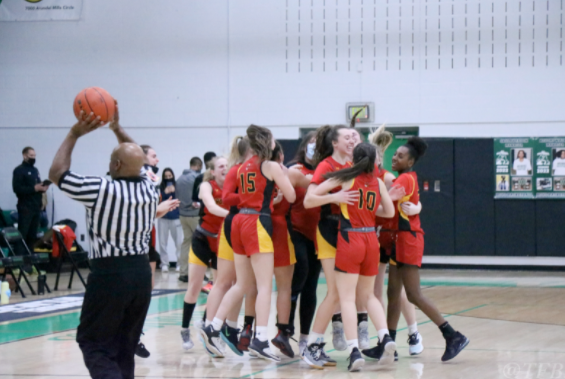 With winter sports coming to a close, girls varsity basketball takes a moment to reflect on how the season has gone. The final statistics of wins and losses for the team was 7-9, and the team has their first playoff game Friday February 25th.  
Coach Mason, head girl's varsity coach, has been coaching basketball since 2008 and has coached at both a college and highschool level. Mason grew up playing basketball in highschool and even furthered his basketball career in college. 
While reflecting on how the season is going so far in early February, Mason expressed that they are going through "challenges" at the moment, "The season started off well but now we are having some challenges currently. I am hoping that we have a much better end to our season than this middle part of the season. "   When asked if Coach Mason expected a successful season he responded that he did in all areas including number of wins and player morale, "I most certainly did once we got our team together and had our first few practices and games. If we are talking about success as far as our team/players being good people, taking care of business in the classroom, at home etc… YES!" 
Sophomore, Lily Maher, has been playing basketball since she was in third grade. Back in the beginning of the season, mid December, Lily answered how she feels about the team's success with, "I'm feeling great and I think it's very exciting that in my first year playing basketball (in highschool) we are already 3-0." Maher also stated "The student section is really cool" because they get excited for the team throughout the game and, "You realize those people are cheering for you." 
Junior Yasemin Tokay is also a member of Crofton High School's first ever women's basketball team and she has expressed her excitement about getting to be a part of the team. "I'm happy to be a part of a new team that gets to build new traditions and build a standard of success" Tokay has said. Tokay also states that she's "Feeling good our team is already getting close and I'm excited to see what's to come."
Over the course of the season Crofton Varsity women's basketball team was very successful; they were able to build new traditions and prepare for their season next year with a full team of seniors. Their last game ended in overtime with a win against Arundel and a score of 49 to 46. Overall they ended with a record of 10-9 and looking forward to next season.