Death on the Nile is Worth the Watch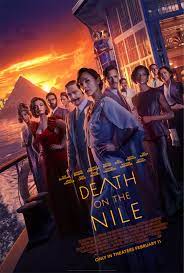 Death on the Nile was an interesting movie, to say the least, and I enjoyed it overall. It was directed by Kenneth Branagh, and I think he did a fairly good job with the movie. The mystery aspect kept the audience guessing all the time, and the movie ended with a twist.
The movie features a vibrant background full of pyramids and beautiful sunsets, and is set in Egypt during the 1930s on the Nile River. After meeting at a dance in London a few months earlier, Linnet Ridgeway and Simon Doyle fell madly in love. Their marriage and subsequent honeymoon cruise was seemingly perfect until someone dies on the ship, leaving detective and sleuth Hercule Poirot to solve this shocking crime of passion.
Based on the book by renowned mystery author Agatha Christie. In addition to directing, Branagh played the main character. Linnet Ridgeway was played by Gal Gadot, and her husband, Simon Doyle, was played by Armine Hammer.
This movie has an abundance of characters, and an important one is Andrew Katchadourian, the money-hungry brother to Linnet. He was played by Ali Fazal, a rising actor renowned in Bollywood. Buoc, an adventurous and rowdy character who takes an important role later on, was played by Tom Bateman.
In conclusion, while I enjoyed the mystery aspect of the film, it was somewhat chilchie and slow, which was part of the charm. Critics were overly harsh on this film, and they did not portray it fairly though. Death on the Nile was generally enjoyable, and I'd recommend it to anyone looking for a good mystery.