Charmed Season Premiere: New Witch, New Danger, and New Grief.
Spoilers Ahead…
With the death of Macy still fresh, Charmed returns for its 4th season. We start 6 months after the season 3 finale, with characters still feeling the grief of Macy's demise and expressing it in many different channels. Mel finds herself clubbing, drinking, and hooking up with many girls in the new magical hotspot, The Blue Camellia. Maggie has taken her grief and turned it into a rage and is taking said rage out on demons.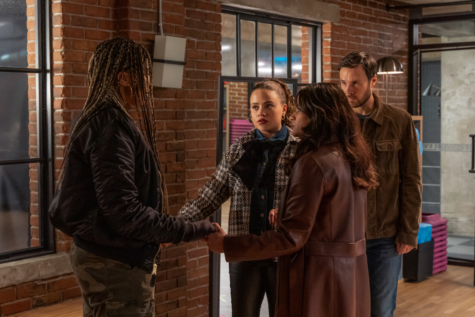 I think this is a very interesting switch from their last battle with grief. When their mother died, Maggie just wanted to accept it and move forward, while Mel was stuck in the past and was hellbent on discovering the truth of her mother's death. We also see Harry visually taking Macy's death hard, because he has lost the love of his life and is out of touch with everything he once knew. Things between the Vera sisters are also out of touch, as there is this wall between Mel and Maggie as they've just lost their older sister and are on this quest to find the mysterious fourth charmed prophesied by the Guardian last season. 
With things needing to change we are able to see how things between the sisters are going to start to crumble, with Maggie wanting to move out. But with some divine intervention (from who knows who) the sisters are magically led to Philadelphia where they meet a struggling muralist named Kaela Danso (Kaela being short for Michaela!) who turns out to be the prophesied fourth charmed, who seemingly has no blood connection to the sisters which makes her fulfillment of the role as charmed one all too confusing. Kaela being brought into this magical world with no knowledge that this magic even existed until now, she is revealed to be not only a charmed one but a power manifestor, which grants her the power to bring her artwork to life. With her power accidentally turns Josefina (Mel and Maggie's cousin) into a paper cutout and summons a dangerous negative space monster. Wow, what a day!
 The end of the episode reveals not only a dark and mysterious new enemy, called "The Tallyman" after the corruption and death of a pixie. But that Kaela is adopted which opens the question of how is she able to be a charmed one and how is she connected to Macy, Mel, and Maggie?