Maryland Approves New Congressional Map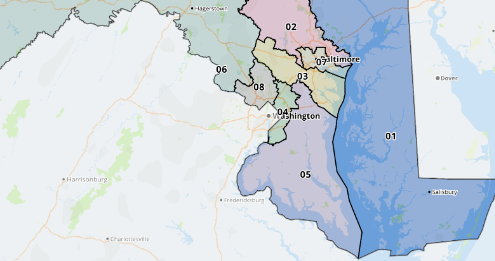 In December, the General Assembly convened for a special session to discuss redistricting in the state of Maryland. They passed an objectively gerrymandered map, which was subsequently vetoed by Governor Larry Hogan but was then overridden the same afternoon. This new map stood for a few months until April, when it was overruled. 
Last month, Anne Arundel County Circuit Court Judge Battaglia Anne Arundel County ruled that Maryland's new congressional map was unconstitutional and was to be overturned. 
It is said in a Washington Post Article that,  "(She reached) The conclusion that the 2021 Congressional Plan in Maryland is an 'outlier,' an extreme gerrymander that subordinates constitutional criteria to political considerations." 
After scrambling, the General Assembly came up with a much more equitable map that was less biased toward the Democrats. Even Governor Larry Hogan signed it into law, saying in an NBC article that (the new map) was "a huge improvement" over the original one.
Under the old proposal, Democrats led in seven of the eight proposed congressional districts, with only one being very competitive. Under the new map, the status quo was mostly upheld with six safe Democratic districts, one safe Republican district, and just one very big difference. 
Now, there is a very competitive district in western Maryland consisting of all of Garret, Washington, Allegany, and Frederick counties with portions of exurban Montgomery county as well. This new district narrowly leans towards the Republicans, putting David Trone in danger of losing his re-election. This is a big change from the previous map, which carved western Maryland and Montgomery counties into deeply democratic suburbs.
 Also, instead of being part of the 1st Congressional district under Andy Harris (R-Cockeysville), all of Crofton is now a part of Maryland's 5th congressional district led by House Majority Leader Steny Hoyer (D-Mechanicsville). Crofton used to be split in the middle, with Hoyer's district in the triangle and Anthony Brown's in northern Crofton.