The Selection Series Is Worth Reading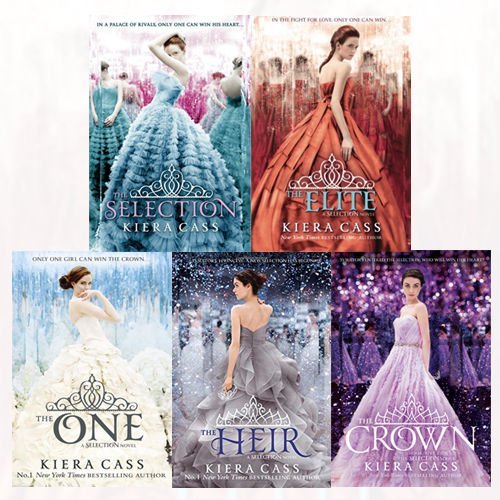 In 2012, the first book in The Selection Series came out. The Selection, written by Kiera Cass, became increasingly popular through BookTok. There are five books in the series, The Selection, The Elite, The One, The Heir and The Crown. 
The first three are from the point of view of America Singer, a five in a dystopian future where people are sorted into ranks and numbered 1 through 8, 8 being the lowest social class. America enters this contest to win the hand of the prince in marriage, all to please her mother and much to her surprise she is 1 of 35 chosen to go to the castle to try and win the prince over.
Many people enjoyed the first three, with a 4.10/5 rating on Goodreads for the first book, 3.97/5 rating for the second book, and 4.17/5 rating for the third book. The last two were from the point of view of Princess Eadlyn, America Singer's daughter and were not as popular, with a 3.67/5 rating for the fourth book and 3.65/5 rating for the fifth book on Goodreads. 
Freshman Virginia Plunk said "the first three books were really good and I would recommend them." She said doesn't see herself reading the last two though, because she hasn't heard the best reviews about those books.
The first three books were amazing and had a good enemies to lovers plot and love triangle. With the first three books you read them so fast because all you want to know is what is going to happen next. The last two books fell short though and got to be long at times. There was nothing really important happening and Princess Eadlyn didn't really care about her own selection.
Another freshman, Jo Kocan, said "the first three books were really good and I would recommend it to another person because I really enjoyed reading it. I don't see myself reading the last two books in the future though because I don't want to ruin my experience with the series."
People can agree that the first three books were amazing and worth reading, but the last two were worth skipping. Read this series and experience The Selection.