Colin in Black and White tells the Kaepernick Story with Drama and Detail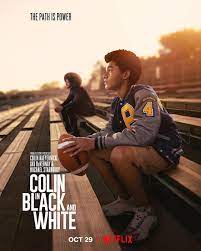 Colin in Black and White is a limited series on Netflix based on former football player Colin Kaepernick and the challenges he went through growing up while being both Black and Caucasian. It was created by Ava DuVernay and Colin Kaepernick, who is well-known for "taking a knee" during the National Anthem and sparking a discussion within the NFL about racism. There are 6 episodes, and they each range from 27-35 minutes. This series is understandably rated TV-14 due to language and profanity. There are occasional f-bombs, but nothing too crazy, in my opinion.
Colin was adopted by Rick and Teresa Kaepernick when he was just 5 weeks old. He was born in Wisconsin, but he grew up in Turlock, California. In both places there weren't that many Black people. Kaepernick played football, baseball, and a little bit of basketball in the 8th grade, then he played baseball and football in high school before fully focusing on football in college.
Kaepernick was really good at baseball and received many scholarships, but in his heart he wanted to play football. He showed in the series that many people were against him doing so, but he still worked towards getting a football scholarship. I really like how he included this, because it shows that no matter how many people are against you, you can still reach your dreams.
As far as a racial standpoint, I appreciated how he showed real examples of how he had been stereotyped so people could get a glimpse of how it feels to be mistreated on multiple occasions. He reviewed how Black people have to be careful about expressing themselves in certain ways, such as getting cornrows because others would say they look "dangerous" or "disrespectful". He used famous basketball player Allen Iverson as an example for this. He talked about how some people didn't really care how good Iverson was at basketball, they still criticized him for his hairstyle. I also liked how Kaepernick brought attention to how Iverson "endured scorn and derision for this simple act of self-expression."
Kaepernick also had his own personal examples that he used. He showed how his middle school baseball coach said he looked "unprofessional" and basically forced him to cut his hair in order to stay on the team. He also showed how his own mother said that he looked like a "thug" with cornrows. He showed different instances where he had been profiled at places like hotels and even by a police officer when he was just 15.
There were certain aspects of having white parents that were difficult for him. Because both of his parents were white, Kaepernick couldn't really form a connection to his culture as a Black man. Some examples of this were that his mother's cooking was very different from African American cooking. His parents were also concerned about him dressing a certain way and wearing his hair a certain way. Lastly, the music that his parents played wasn't necessarily the music he liked. I believe this was a mix of preference also.
Even Colin's Black friend made it seem like he was weird for liking an African American girl because all of his other friends were interested in white girls. He reviewed white privilege and how Black people have to work twice as hard to earn their spots. An example of this was that his high school football coach put him on the freshman team instead of junior varsity even though Colin was better than the other quarterback, in my opinion.
Overall, I think that the show did an excellent job with the music choices. They played songs like "DNA" by Kendrick Lamar and "So Fresh, So Clean" by Outkast. I also believe that most of the outfits do a good job of representing the late 90's and early 2000's. The acting is also pretty good, and I enjoyed how Kaepernick included real history in the series. The show had a half documentary, half drama vibe also, which I liked and thought was pretty creative.
I believe they did a good job with casting, because Jaden Michael has similar features to Colin. I also liked how at the end of episode 6, Colin wrote a note to his younger self. I do wish that there were more episodes, but I did enjoy the series. There's not really anything that I disliked about the series. I recommend this series to anyone who wants to become educated on how Black culture makes an impact on us daily.