Joshua Bassett shares his soul eloquently in Sad Songs in A Hotel Room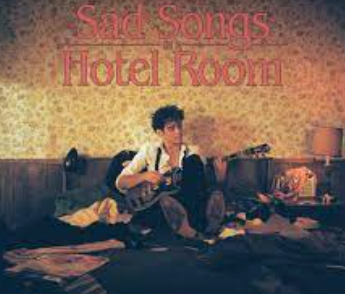 On September 23rd, Singer-Songwriter and Actor Joshua Bassett released a new EP, Sad Songs in a Hotel Room. Bassett is best known for his role as Ricky Bowen in Disney's High School Musical the Musical the Series. Following his exposure on the show, he began releasing music on streaming platforms, his first piece being "Common Sense" shortly followed by "Anyone Else."
The high amount of listeners made this boy from California turn into a star practically overnight. Bassett released his first EP named after himself on March 12, 2021. This EP got a lot of exposure, specifically surrounding drama with co-star of High School Musical the Musical the Series, Olivia Rodrigo. Rodrigo released a song entitled "Drivers License", allegedly about Joshua Bassett and his "relationship" with actor and singer Sabrina Carpenter. 
Sad Songs in a Hotel Room consists of six songs. These include "Sad Songs in a Hotel Room," "LA," "Used to it," "Smoke Slow," "Lifeline," and "All In Due Time." These songs all share a similar vibe of mellow and smooth. After listening to the EP, I cannot help but feel very sorry for him. After everything he went through with Rodrigo and a horrible accident regarding his health, he seems to just want peace. This is extremely evident in the song "Lifeline" where Bassett sings "Save me, now I'm facing all my fears of the unknown. I've been shakin' in my bones…I can't do this on my own."
For me, I feel like this is almost a cry for help. The song itself, besides the concerning yet beautiful lyrics, is gorgeous and warm with the incredible acoustic guitar accompaniment and Bassett's smooth, stunning vocals. Another song I really enjoyed is "LA". Here we have another example of a song where Bassett appears to just want all of the drama to come to an end. "LA" debuted at Joshua Bassett's virtual concert entitled "A Night with Joshua Bassett" and gained lots of attention, making fans ecstatic when seeing LA on the track list.
While I definitely spend more time analyzing these pieces than the average listener, I thoroughly believe that you should listen to this incredible EP.