Crofton High School Football Speaks on Ineligibility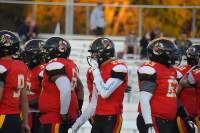 After reports from Crofton High School about at least one ineligible player on the Crofton High School Varsity football team reached AACPS, the Crofton High School Varsity Football Team had to forfeit 4 wins from the 2022 fall season, which were all of the wins they had acquired at the time. Varsity Head Coach Todd Sommerville was made aware of the ineligibility once it was discovered by the school, and players were told as a group by Principal Kathryn Feuerherd. 
Coach Sommerville explained that it was tough for the team to hear and upsetting for everyone involved, however, "We focused our energy on the important things, the things that we can control and not the things we can't control." He added, "I thought this season was a great job that our guys did. They responded very well, had overall great energy, a great attitude, and a great turn around from a year ago. I'm excited to see what they do in the playoffs."
Junior at Crofton High School and Varsity Football Player Chris Hayes explained the team's opinion on the losses, "It's just administrative [punishment]; in our eyes, we're still 6 and 3. We practiced like we were 6 and 3, we held ourselves like we were 6 and 3, so basically we were 6 and 3." After Principal Feuerherd broke the news of the losses to the team, they held their heads high and continued as normal. Chris explained, "We stuck together as a team, we knew what we had to do and we just stayed focused on our goals. Our coach was really supportive of us; he told us that it was just administrative stuff and to keep going forward. He told us that he was with us and that the team is all together, one family." 
Another Crofton High School Varsity junior, Joe Hayes, added "Initially I was in disbelief that this was happening to us when we had worked so hard in the off season and just that this happened out of nowhere. We could have just sat there and gave up the season but we decided to do the best with what we had and keep playing." 
Varsity junior Ismaeel Hashmi said he was upset after hearing the news of the forfeits, but explained that the team played the same teams they would have played if there were no forfeits, which served as motivation for him. When asked if he agreed with the county's decision to require 4 forfeits, he explained, "It's a part of the rules and we have to follow the rules." Joe Hayes offers a different opinion, expressing that he does not think the team should have lost their games and that the forfeits are just administrative. 
Crofton Varsity football finished with an overall record of 2 – 8, despite suffering 4 forfeits.