"One" by Busta Rhymes is a Notably Positive and Progressive Song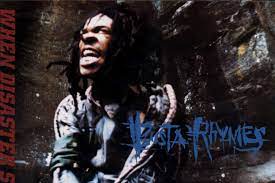 It's easy to say that the past was all bad, today is better, and the morals of the past affected everyone. It's true things change over time but that makes it that much more important to recognize the good people did before it was considered the standard. Good for the sake of good is an important topic, and I wanted to share one such story.
Today we're going to start with the musician Busta Rhymes, namely his song "One" off of the album When Disaster Strikes. This song is incredibly masterfully written and produced. It sticks out from this album in its essence, but to really understand why that is, requires a step back to look at Busta Rhymes as an artist.
Busta Rhymes is a rapper that has managed to hold a very distinct style and theme for quite a long time. Many rappers will change their style over time, but usually, struggle to keep a common theme, even on a single album. Busta Rhymes has a very specific theme across his entire discography, of the apocalypse which he accompanies with his crazy stature and aggressive delivery. He repeatedly raps about the end of the world, the rapture, and the destruction of mankind. This continues on When Disaster Strikes, but "One" deviates from this theme. 
"One" is about how even in the worst of times we don't have to lose ourselves. There is still the obligation to be a good person. This song features Erykah Badu, and wants to show listeners how much your relationships have to gain when you give women the respect they deserve. For a song written in 1997, it does an excellent job to dismantle sexist ideas and challenge patriarchal systems. 
The song is similar to J.Cole's "Foldin' Clothes" in its message and theme. The significance of "One" is, it came out 19 years prior. It was an early representation of male hip-hop recognizing their participation in the patriarchy and sexism. Both tracks visualize a healthy, loving relationship, which can be difficult to find in rap music at times. 
Busta Rhymes raps, "You always hold it down for me, so I'ma hold it down for you/and hold the babies while you secure the food to come through." It's important for someone so wild and unrestrained in his lyrics to recognize the importance of how we treat others. 
Erykah Badu continues, "Cause you're my everything, what's mine is yours/Movin' in one direction just for one common cause." They both speak on the give and take that accompanies a successful relationship. 
While these two are the only voices heard on the song, songwriters also included Ryan Michael Smith and Stevie Wonder, according to Genius. 
This track leads to an interesting insight into the flawed conception that people were only as good as the morals of their times. And this song was not ahead of its time; more accurately it was symbolic of the good that did exist at the time.