Is Stand-up Comedy a Dying Artform?
Stand-up comedy is an art form that is at certain times controversial, and some people seem to think that the new generation 'can't handle it'. Comedy clubs also experienced a major deficit during the pandemic, as did many other things. Has it been able to bounce back? Or has it, like many predicted, taken an irreparable hit since the change in lifestyle that our society has experienced post-pandemic? Do people no longer desire to see this happen in person? Or to laugh at the topics that make us most uncomfortable?
"
"Humor is just another defense against the universe "
— Mel Brooks
In my experience, comedy has not been on the decline as of late. In many cities and areas, it is a bustling and lively addition to the nightlife scene. Of the small handful of places I've performed in the last year or so, they have all been full of comics. With a continuing range from brand new comedians to people with years of experience, to people who have been able to make a living off of it. Consistently across open-mic to open-mic I have encountered many people eager to perform, and people delighted to watch, even at the amateur level.
But why should you trust me? Find out for yourself!
Great places to watch and support local comedy:
DC Improv on 1140 Connecticut Ave NW, Washington DC
Magooby's Joke House, 9603 Deereco Rd, Timonium MD
The Electric Palm 12745 Sea Ray Ln, Woodbridge, VA
The Pocket on 1508 North Capitol St NW, DC
Fells Point Tavern 1606 Thames St, Baltimore, MD
The Hideout on 9855 Washington Blvd N, Laurel MD
Interested in performing? Check out some of the best local places to try it out as a beginner:
The Electric Palm in Woodbridge Virginia. They have a fantastic open-mic run by Dewayne White. There's a great atmosphere, a wonderful audience, and a supportive and talented group of comics. They have a regular open-mic on Tuesdays and a 'riff-mic' on Wednesdays, where topics are chosen out of a hat. If you wish to perform email [email protected] and ask to join the mail list. Information will be given out through that. Click this link to see what it's like Comedy @ the Electric Palm
The Pocket on 1508 North Capitol St NW in DC. This mic is fun, chill, and a great way to meet new people. It is on Wednesdays and comic call is at 7:30. You can sign up by DMing Ms. Rola @somearabwoman on Instagram. Check out what it's like to perform at this link: Comedy @ The Pocket
The Tavern at Fells Point. This mic recently has undergone some reformatting. The new process is a mix between an open mic and a showcase format. The details are a bit fuzzy at the moment as it it starting young and is subject to change, but at the time of writing it is at 9:30 on Tuesdays. It is ran by Roberto Reed who you can reach for more information or to sign-up on Instagram @robertoreedcomedy . Check out what performances are like by clicking this link: Comedy @ The Tavern
If Crofton High had a Stand-up Comedy Club, Would You Participate?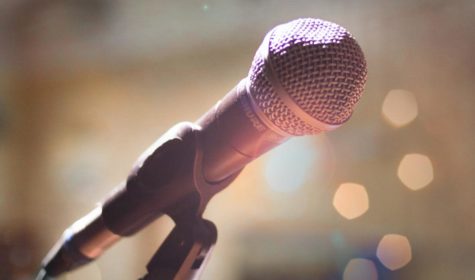 Sorry, there was an error loading this poll.
Don't have the time or desire to go out? Check out some of the best stand-up you can find on streaming services:
The Great Depresh –Gary Gulman, Spotify
New in Town -John Mulaney, Netflix
Comeback Kid -John Mulaney, Netflix
Not Normal -Wanda Sykes, Netflix
The Overthinker -Demetri Martin, Netflix
Cole Hearted -Deon Cole, Netflix
Tambourine -Chris Rock, Netflix
Good Fortune -Fortune Feimster, Netflix
Comedy Camisado -Hannibal Buress, Netflix
King Baby -Jim Gaffigan, Netflix