Gillian Flynn's Sharp Objects is a Mysterious & Stunning Read For Everyone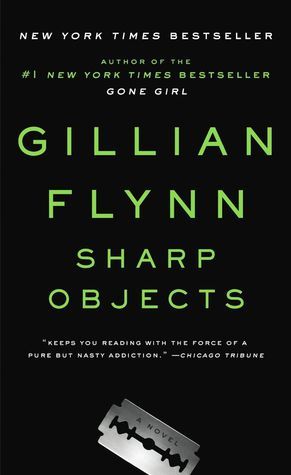 Sharp Objects, written by Gillian Flynn, is a mystery alongside a psychological thriller, and happens to be one of my favorite books. This is Flynn's debut novel that she wrote in 2006. Sharp Objects will keep you on your toes, and I guarantee you won't be able to put it down. 
The book focuses on Camille Preaker, a young journalist who is trying to make a better life for herself. Camille works for The Daily Post in Chicago, and specializes in articles about crime and murder. 
Camile has had a rough childhood, as well as a rough couple of years. When Camille was young, her sister Marian, who she was very close to, passed away. This was very hard on Camille, she had no idea how to cope. This ultimately led to Camille being hospitalized for self harm. After 12 long weeks in the hospital, Camille was finally released. And was able to go back to work. 
Camille has a very good relationship with her boss, Frank Curry, who supported and took care of her while she was in the hospital. When Camille comes back to work after her hospitalization, Frank gives her a story he thinks is good for her. Frank assigns Camille a murder case of a little girl Ann Nash, and a missing girl Natalie Keene, in Camille's hometown of Wind Gap, Missouri. Camille is very hesitant to return to her hometown because of a strained relationship with her mother Adora. Even though she is hesitant, Camille agrees. 
After her agreement, Camille leaves for Wind Gap straight away. Camille's task is to cover the murder and get as much details as she can because not only would it be good for her career, but also for the paper. When Camille arrives in Wind Gap, she immediately gets to work. She asks people around town like the sheriff and even the family of Ann Nash if they know or have seen anything relating to the murder or the missing girl. Now in Wind Gap, Camille needs a place to stay, so it's back home for Camille. This is where Camille reunites with her half sister, Alma, as well as her unstable mother Adora. Camille takes this case very seriously, maybe even a bit too seriously. While struggling with her own problems, It's Camille's job to unravel this mystery. 
Sharp Objects is the perfect mix of mystery and thriller. Being able to see the mystery unfold is absorbing, and the ending is something you will never predict. If you like thrillers that will keep you hooked, Sharp Objects is the book for you.