In a Rap Battle of Songs vs. Their Opposites, Who Would Win?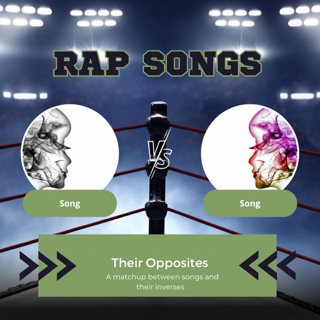 As everyone who has ever written something has experienced, I was out of ideas. I was sitting there, listening to music racking my brain to come up with something to write. Then, J.Cole's "No Role Modelz" played right after Eminem's "Role Model" and I thought that was funny. I searched for more contrasting pairs of titles, and then started comparing them. So with just a little further ado, ten rap songs vs their opposites. (Part 1?).
"Count Me In"-Nas vs. "Count Me Out"-Kendrick Lamar
The winner of the narrowing face off is Lamar's "Count me Out." Off his 2022 album Mr. Morale and the Big Steppers, it is a song about his rise to fame and how he came up to prove people who didn't believe in him wrong. It is one of the high points of this album and is a fast paced and exciting song, where Lamar can show off rhythm and lyrical expertise in a more positive song. Nas' "Count Me In" is a good song in its own respect, but it loses out to Lamar as it lacks the excitement and just fun of Lamar's track. Both songs are lyrically impressive, but Nas does not bring anything too exceptional to beat out Lamar in this face off.
"Rap God"-Eminem vs. "Rap Devil"-Machine Gun Kelly
There is a pretty clear winner between these tracks. "Rap God" was a song written for Eminem's Marshall Mathers LP 2, and is famous for its speed and volume of words he is able to fit into this song, which holds a world record for most words in a hit single. "Rap Devil" was supposed to be Machine Gun Kelly's diss track on Eminem, playing at the idea he would rather be the devil of rap then the god. However MGK struggles throughout the entirety of his track to come up with feasible shots to even take. He comes of as wishy-washy, being unclear whether he is praising or insulting the "Rap God" rapper. "Rap God" is the overwhelmingly better track here.
"Ugly"-Nas vs. "Beautiful"-Eminem
"Beautiful" is beloved by Eminem fans for its flow and inspiring message, landing a deserved spot in many fans' top ten lists. I went into this expecting this to be a massive win for Eminem but after re-listening to "Ugly," I realized just how much Nas brings to the table on this track. He exemplifies his mastery in his craft of lyricism, especially in the first verse. He also promotes a deep message here, using the word ugly to describe that which stains society. As for a winner, I think Eminem narrowly defeats Nas with the emotional background of the song.
"No Role Modelz"-J. Cole vs. "Role Model"-Eminem
These are two very different songs. J.Cole's track is an uplifting 'rise to the top' song, which is miles different than Eminem's, which is an almost satirical response to criticism towards his influence on the youth. I actually really enjoy Eminem's "Role Model," but J. Cole's song on the lack thereof is a classic and iconic rap song that clearly wins this bout.
"I Gotta Eat"-Oz the Hitmaker vs. "Fed Up"-Bazanji
These are both more obscure songs, by artists many people may not have heard of. Surprisingly, both songs actually have a similar tone and pace, despite their "contrasting" titles. I really enjoy both of these songs as hype songs or workout music. I feel like in this specific instance however, Bazanji has a track with more substance, winning this battle.
"i"-Kendrick Lamar vs. "u"-Kendrick Lamar
Where to start? These tracks are both outstanding, both come from the album To Pimp a Butterfly, and both portray deep messages that are personal to the Pulitzer winner Lamar. It's tough to compare two so well written and executed songs. For me when I listened to these two in comparison to each other, I felt more moved by i, and felt like I had learned a lot from his discussion of the etymology and usage of the N-word. For these reasons i will beat u in this Lamar vs. Lamar comparison.
"Good Guy"-Eminem vs. "Bad Guy"-Eminem
In the second artist against themselves match-up of the article, we have "Good Guy," a love song about an abusive relationship, and the lengths at which people are able to continue to love each other, and a song where the artist is killed by a maniac seeking illogical revenge at the loss of his brother. Strangely, the latter is the much stronger track. Despite initial presumptions, "Bad Guy" tells an interesting and lyrically sound story that is enjoyable to listen to. "Good Guy" is a difficult listen, it's nothing special in terms of lyrics or story and the chorus is pretty tedious. "Bad Guy" comes out clearly on top here.
"Fall"-Eminem vs. "Arose"-Eminem
"Fall" is a diss song in response to the poor critical acclaim received by Revival. "Arose" is a song about the impacts of Eminem's near death overdose, and what he would have wanted his beloved daughters to know. "Fall" is an enjoyable track that's both fun to listen to and enjoyable to rap along with. But "Arose" is a song that is deep, personal, and really plays with your feelings as the listener. As a song that could easily bring both feelings of sadness and joy to the listener, "Arose" is the superior track.
"All Your Fault"-Big Sean & Kanye West vs. "My Fault"-Eminem
"All Your Fault" is your classic rise to the top rap song. About the haters, making it big, and wanting to make it bigger. "My Fault" is not a traditional rap song. It tells a story of which its probably best not to elaborate on in this article. It's not a bad song, it speaks on the dangers of drugs, but it gets a bit immature and wild at points. While this is not necessarily something that prohibits a song from being good, It lacks the lyricism and and longevity that "All Your Fault" has. And when they start trading bars back and forth by the end of the track, its clear why this track wins here.
"Nobody"-Nas feat. Ms. Lauryn Hill vs. "Everybody"-Logic
Now, Logic is not the most respected rapper with his many accusations and constant slew of hatred he faces, but he goes hard on "Everybody." The chorus is catchy, the beat and production is tight and quick, and his rhyme scheme is great. No matter what Nas song this track happened to be up against it'll still be a tough fight for sure. "Nobody" by Nas is also a fantastic song with a slower pace, leading to a more rhythmic and precise song. Lauryn Hill's verse goes along with the theme set earlier in the song and keeps the same tone, leading to a well-produced and interesting song. The winner here has to be "Nobody."