Red, White, and Royal Blue Movie Release Date Announced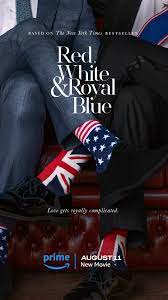 On Wednesday, April 26th, author Casey McQuiston and Prime Video announced the release date of the new movie Red, White, and Royal Blue. Based on McQuiston's New York Times bestselling debut novel, Red, White, and Royal Blue, the movie will center around the unlikely love story of two men: First Son of the United States (FSOTUS) Alexander Claremont- Diaz, and England's darling Prince Henry. The movie will premiere on Prime Video on August 11th, 2023 and as the poster states, "True love has never been so complicated."
The movie has been highly anticipated by fans of the original novel, with many hoping it will truly be an accurate portrayal of McQuiston's work. The original book presents an alternate reality, where Ellen Claremont was elected America's first female president in 2016. The story begins in 2019, where Alex is finishing his last year of college and preparing to join his mother's campaign for reelection in 2020.
These plans are complicated by a chance occurrence with his mortal enemy- Prince Henry of England. Over the next year, the two fall in love and desperately hope to avoid the many complications their elevated positions as children of world leaders bring, ultimately posing the question- Is love truly enough? Featuring a diverse cast of LGBTQ+ and POC characters, Red, White, and Royal Blue explores deep political and social divides that occur both in the U.S. and abroad, and explores the many cultures and communities that make the United States unique.
In 2019, Casey McQuiston published a novel that has since gone on to touch the lives of millions of people around the world, providing representation and advocacy for those who are traditionally underrepresented in the media. McQuiston touches on many themes and issues that are still prevalent today, and weaves the most heartwarming love story through it all. Four years later, fans can't wait to see this shown on the big screen. Red, White, and Royal Blue is out August 11th on Prime Video!