Boys Lacrosse Bounces Back to Beat Arundel 21-2 in Playoffs After a Tough OT Loss in the Regular Season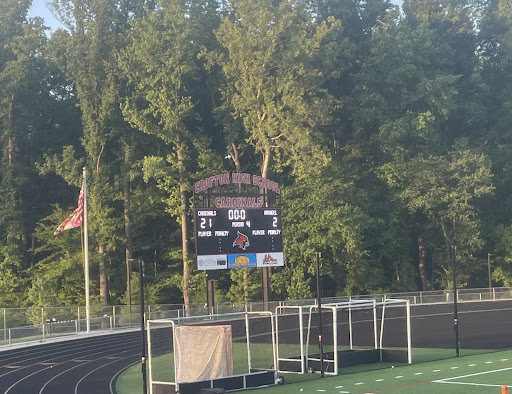 Boys Varsity Lacrosse won their first home playoff game against Arundel on Wednesday. Their blowout win allowed 9 different players to score. There were four goals from Ryan Cantner, three from Tom Gress, Dom Zanolli, and Jake Schachter, two from Charlie Cloyd, Evan Owenby, and Luke Wojtech, and one from Andrew Gustie and Jack Boyle. Tommy Bell had 6 saves in goal, and Sean House and John Gallizzo each had two saves. 
The last time Crofton faced Arundel was earlier in the regular season where they lost 8-9 in OT. Senior attacker Ryan Cantner said that they had an off day when they first played Arundel, but they used the motivation from the loss to play their hardest when they saw them again. This helped them to "play our best game all year, from start to finish." He said the best part of the win was celebrating with his teammates and the energy coming from the sideline. Next game, Cantner says we can look forward to them "coming out hot, playing physical, and not backing down."
Junior defender Aidan Roerick shared that "it feels great to know that what we did as a team to better ourselves worked after the loss and to have that outcome against them in playoffs is exhilarating." He said the best part of the game was the team huddle at half time when they were up 16-0. Roerick is excited to "shock some faces next game against Severna Park, especially those in the county who have been looking down on the program."
In their next round of playoffs, the Cardinals will play the Severna Park Falcons on Friday at 6pm at Severna Park.