The Little Mermaid is a splashing sensation!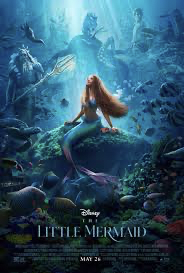 "The Little Mermaid", directed by Rob Marshall, arrived in theaters on May 26, 2023. This remake of the original film, released in 1989, follows the story of red-haired mermaid, Ariel, who longs to be on land and is fascinated by human life. Her father, King Triton, will not allow her to visit the surface after her mother was killed by fisherman. Upon one of her visits to the surface, Ariel meets Prince Eric. Eric falls into the water and Ariel saves him. Her father discovers this and lashes out in his anger towards Ariel. Ariel, frustrated, visits a sea witch named Ursula who makes a deal that she can trade her voice for legs to follow Eric. Joined by her friends Scuttle, Sebastian, and Flounder, Ariel attempts to navigate the human world without her voice.
I saw "The Little Mermaid" twice last weekend. And let me tell you- it was absolutely incredible. From the music to the CGI to the actual plot, I was amazed. A truly memorable part of the film was the addition of new songs! These songs include "Scuttlebutt", "For the First Time", and my personal favorite–"Wild Uncharted Waters". I love this song in particular because it features Prince Eric, which the original film does not do. Jonah Hauer-King, who plays Prince Eric, does a phenomenal job adding to the character to make him more interesting and give him a backstory- something that isn't present in the original movie. People describe Disney princesses as having an "I want" song, and I thought it was really neat to see them give one to a Disney prince. Overall, it was super cool for other characters beside Ariel and Ursula to be featured.
Halle Bailey, portraying Ariel, was absolutely wonderful! Her vocals were incredible, as was the way she brought Ariel's bubbly and fun personality to life! Additionally, Melissa McCarthy was a fantastic Ursula and was genuinely terrifying while also being absolutely hysterical. Awkwafina and Daveed Diggs as Scuttle and Sebastian were so entertaining and they really got into their characters to showcase their fun personalities!
Overall, this movie was absolutely amazing! I would recommend this movie to everyone, children AND adults alike!