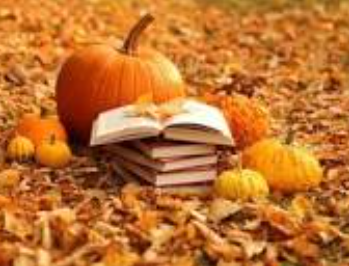 Fall is just around the corner, and it's almost time to curl up on the couch and read fall-themed books to get in the festive spirit. In celebration of the upcoming season, Here are 10 books that you should read this fall!
First book on the list is the popular "Six of Crows" duology by Leigh Bardugo. This story follows six outcasts with an ambitious mission and nothing to lose. The world it is set in is very steampunk and fantasy-oriented, and is definitely something to read if you're looking for an action-packed read!
The second pick is the "Stalking Jack the Ripper" quartet by Kerri Maniscalco. This follows Audrey Rose Wadsworth, who studies forensic science in secret, on the outside living a life of wealth and luxury. She becomes a key player in solving the Jack the Ripper case, and follows the twists and turns that come with solving a mystery. If you like mysteries, dark academia, or historical fiction, then this is for you!
The next choice is the "A Good Girl's Guide to Murder" trilogy by Holly Jackson, which is becoming a series this year! It is a murder mystery surrounding Pippa Fitz-Amobi as she unpacks a murder that happened five years ago in her small town. As she studies it, she finds missing pieces that uncover secrets well-hidden in the case. This read is very fast-paced and intriguing, and each book in the trilogy is relatively short.
Fourth on the list is "If We Were Villains" by M. L. Rio. This story follows a group of students studying shakespeare. When the environment between them changes, a dark turn causes them to question everything. This riveting murder mystery thriller takes you through a roller coaster of romance, betrayal, and everything in between.
Next is "The Lost Apothecary" by Sarah Penner. It follows two plotlines. One being Nella who owns a hidden apothecary shop, one that sells disguised poisons to desperate women to kill and be free of the men in their lives, the other protagonist being Caroline, who catches wind of her husband's infidelity and itches to learn more about this apothecary. This historical fiction story is thrilling and takes you through two exciting stories that collide abruptly.
The sixth choice is "These Violent Delights" and "Our Violent Ends" By Chloe Gong. This is a Romeo and Juliet retelling set in 1920's Shanghai, focused on two rivaling gangs, the Scarlet gang, and the White Flowers. This enemies-to-lovers is action packed and compelling, diving into complicated dynamics and supernatural monsters.
"Book Lovers" by Emily Henry is a small-town romance inspired by Hallmark movies. Nora is a book editor and goes on a getaway with her sister to a small town named Sunshine Falls. They make a checklist to finish before they leave the town, when she reunites with Charlie Lastra, a stoic editor who also happens to be in Sunshine Falls. This cozy romance is full of quaint settings and romantic getaways, definitely something for your fall list!
The eighth book on the list is "Once Upon a Broken Heart" By Stephanie Garber. This is a spinoff of the Caraval series, surrounding Evangeline, who makes a deal with Jacks, the elusive Prince of Hearts in order to find true love. This fantasy romance is full of ballrooms, princes, and dark twists and turns, perfect for this fall!
Second to last on this list is "The Ex Hex" by Erin Sterling. This is about a witch named Vivienne. She sets a curse on her ex boyfriend, and nine years later the spell comes back to haunt her town. She meets Rhys, who is a wizard who is trying to break the spell. This romance is magical, has perfect fall vibes, and is a must-read for this fall!
Lastly is "Fairy Tale" by Stephen King. Stephen King is well known for complicated worlds and horror, but this fantasy novel goes deep into the pathways between worlds. It follows Charlie Reade. He meets Howard Bowditch, and helps him around his house. Over time he becomes suspicious of his locked-up shed, and falls in love with his dog, Radar. When Mr. Bowditch dies, he opens the shed and finds a well in the ground that leads somewhere. This is a very different genre than King usually writes, but it is a very expansive and exciting read for anyone who likes his works or fantasy worlds.
That concludes this list, but there are so many books for fall, not just these 10. From witchy romance to murder mystery, these books are bound to give a good start to fall reading!