Students Share Disappointment over Sports Cancellations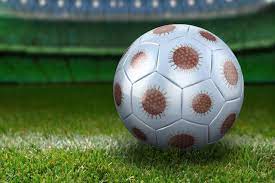 Youth sports are a big part of the spread of COVID-19 in the state of Maryland. According to the Maryland department of health, there are currently 20,171 cases of COVID-19 in Anne Arundel County followed by 723 cases in the 21114 zip code. On November 30, 2020, the Washington Post posted an article on the halt of youth sports, in this article readers were informed that more than 800 athletes were ordered to quarantine after a player on a football team had contracted the virus, this was a cause of the halt of youth sports in Maryland. 
Students at Crofton High school were very disappointed at the announcement of cancelation of youth sports including Sarah Ani, a freshman student on the dance team at Crofton High who has not been allowed to go practice inside of the school even when other sports teams were. Instead of in person practice, the dance team meets through virtual practices. Ani shares her opinion and states, "the virtual practices are effective for me because I get to dance more and learn new things, in dance company we are working on a new dance and our pep rally dance" she said the practices are effective and "hopefully we can perform soon!" 
Ninth grade student, Kylie Cocoran, took part in field hockey in the fall season and lacrosse in the spring season she said "I do think it is harder to learn in a virtual environment especially because it's harder to stay focused but I still learn the things I need to know." In order to stay in shape, Kylie says "my coaches are giving me workouts to do and they are trying to keep our sticks in our hands." Kylie was disappointed at the cancellation of sports. "I am really sad for our first year at Crofton high school," she said. 
Paeton Norsworthy, a ninth grade student on the JV football team at Crofton high, said "I didn't expect the spring practice season would be canceled, I thought that there would be a way for everyone to practice and be safe throughout the season." Most students thought that the spring and fall season could still take place even with numbers rising. Paeton said "as long as everyone is taking some precautions I think it's safe for athletes to participate in in person practices." 
With the Pfizer and BioNTech vaccine approved by the FDA hopefully this means a decrease in Covid-19 cases and the Maryland health department will issue the start of in person youth sports and the student athletes of Crofton high school will be able to enjoy youth sports once again.