Crofton High School's First Annual December Dash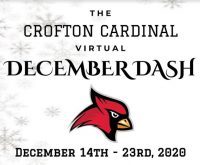 Crofton High School's first annual virtual December Dash fundraiser is running from December 14-23, during which time students and other community members can donate and participate in the 5k run or 1-mile walk to benefit Crofton High School's Student Government Association.  
There is a suggested donation of $10.00. There will be prizes given for the fastest students, as well as adults, who participate. There will also be a raffle for prizes donated by local businesses. Every ten dollar donation gets one entry into the raffle. More specific information about prizes can be found on the Crofton High School website's December Dash page.
Along with prizes, some teachers are offering fun incentives if a certain amount of money is donated. A lot of teachers are promising things such as extra credit or no homework over winter break. Some teachers including Mrs. Audrey Ruoff,  Mr. Andy Little, Mrs. Kelly Redd, and more will even get pied in the face. 
CrHS head football coach and PE teacher, Mr. Todd Somerville went above and beyond with his incentive. He promised to shave his hair into a mohawk and dye it school colors if $2,000 dollars are raised. Mr. Somerville said, "it's just something to gain interest for students to participate and act a little foolish myself."  
During these unprecedented times, the SGA is trying to keep the Crofton community connected however they can. Mrs. Emma Progar, who is the SGA Advisor, shared that "the SGA really felt like we wanted to give back to the community and connect the students, the staff, and the community so that we could feel a little more together when we are meant to be far apart from one another." 
Since Crofton is a brand new school, the SGA does not have a huge budget. They really want to give back to the community but without money, they can't do initiatives that they want to with other service-oriented clubs to help give back to the community. Looking at next year one of the main things that the SGA does in the fall is Homecoming so some of the money will definitely be going towards that. But this year, the SGA wants to take the money and give it back to the community in some way.
Freshman Lucy Dennis, a member of the Class of 2024 Leadership Council, said she believes that people should participate in the December Dash because "it is a way of getting involved with CrHS and the SGA will greatly benefit from the donations received, so it would be awesome if anybody would participate."
To register and donate for the December Dash go to croftonhigh.com and click on the December Dash page, and don't forget to upload pictures to the CrHS SGA website.