Holiday Shopping Black-Owned Business Guide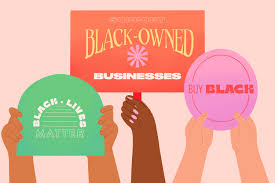 During the holiday season, it's always been a struggle to find the perfect gifts for the special people in your life. Especially during this year, with COVID-19 and everything going on gift finding has just become harder. So, here is a list of black-owned businesses that you can support this holiday season!
   *3-5 day shipping
   *Comes in time for Christmas and Hannukah!
  *Products include but are not limited to: Hair growth oil, deep conditioner, mango curl defining gel 
  *Can choose First-Class Mail Parcel, Retail Ground or Priority Mail shipping  
*Curbside pickup is available as well as other options.
*COVID-19 Friendly! (Mask required and temperature checks)
-Some Reviews: 
  -¨They have good customer service and a good selection of books.¨
  -¨Owner and staff are top-notch people and very educated in their profession.¨
Helloeana(Online Jewelry Etsy Shop)
*Eligible for free shipping on some orders
*Affordable jewelry 
* Some Reviews:
-¨These earrings are gorgeous, high-quality handmade earrings. Very fast shipping!¨
-¨Beautiful craftsmanship!¨
   *Size inclusive! (Sizes XS-5X)
   *Free shipping for orders over $30
GlossedByAbby: Lashes and Lip gloss(Online)
   *Worldwide Shipping
*Free shipping on orders over $30  
*Book Pickup available 
*5 Stars 
*Some Reviews: 
   -¨I ordered a book for a class I'm taking and I'm so happy with the service.¨
   -¨Great selections and very fast delivery.¨
*Online sticker business
*Over 2,000 sales
*5 Stars
Know of a locally-owned black business you would like to tell us about? Comment and let us know!