The Pets of Crofton High School: Paws Behind the Scenes
Crofton High School is filled with amazing students and staff members. Behind these amazing people are sets of amazing paws and claws. Meet just some of the many pets of Crofton High.
Support Students
(Pets of students at Crofton High School)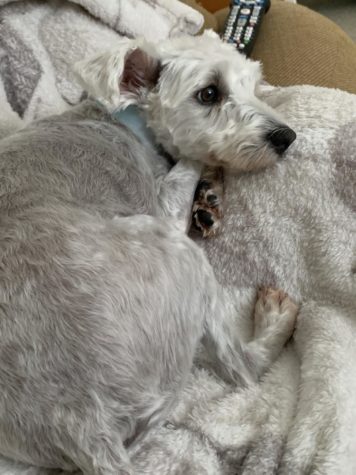 Evie- Junior Kellyn Meadows (this author)
Evie is an energetic ball of fluff. She loves to try to play fetch though she's not the best at it. She has the most expressive ears and absolutely loves people. If you meet her, prepare to be attacked with lots of love.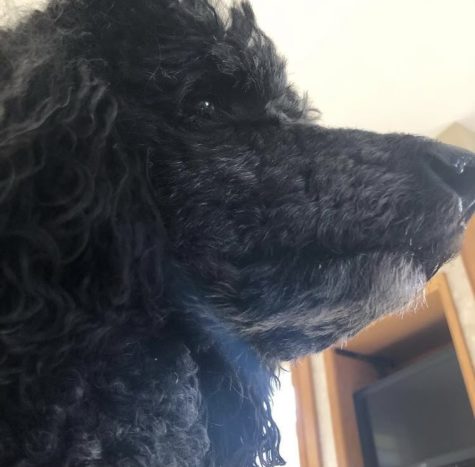 Rufus- Junior Katherine Iversen (Cardinal's Nest Staff Writer)
Rufus is the sweetest and most loving dog to ever exist. Though he can be hyper at times, he always means well. His favorite things are his stuffed fox and the food he steals from his owners.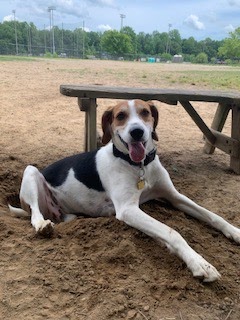 Cooper- Junior Karli Applestein (Cardinal's Nest Opinion Editor)
Cooper is a coonhound mix. He loves sleeping, eating, rolling in the dirt, and being outside!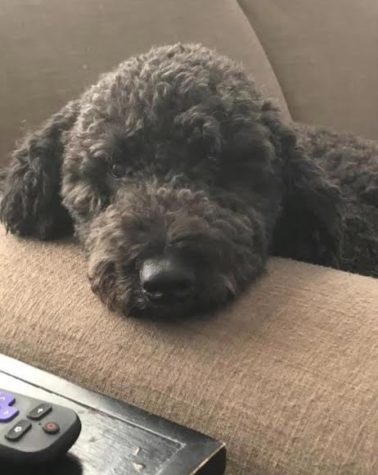 Maggie Joy- Sophomore Megan Howarth (Cardinal's Nest Business Manager)
Maggie Joy is a 3-year-old black labradoodle. She's very energetic and loving. Some of her favorite things are eating cheese, playing with her sisters, and long walks on the beach. She also adores Taylor Swift and the movie Titanic.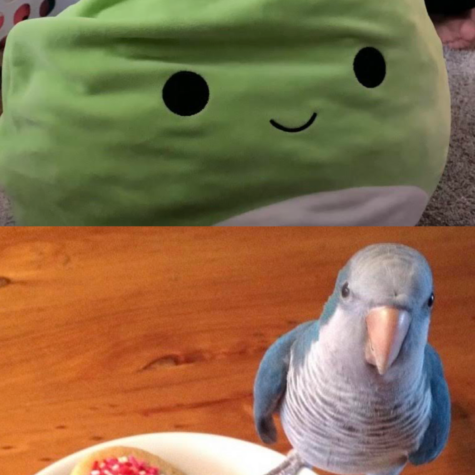 Tom & Picasso- Junior Carley Sanders (Cardinal's Nest Staff Writer)
Tom is a very cool green dinosaur. While doesn't do much he does have a secret love for classical music and historical fiction. Picasso is a quaker parrot who is scared of everything. He can be pretty mean when he wants to be but he definitely makes up for it with his cuteness.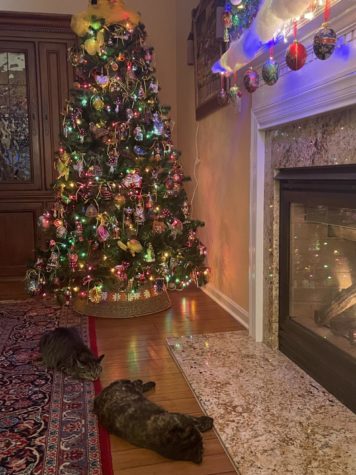 Hazel & Ezzie- Junior Camryn Chehreh (Cardinal's Nest Staff Writer)
Hazel is black and orange, she is mischievous yet snuggly. Ezzie is gray and white. She is a funny and playful cat.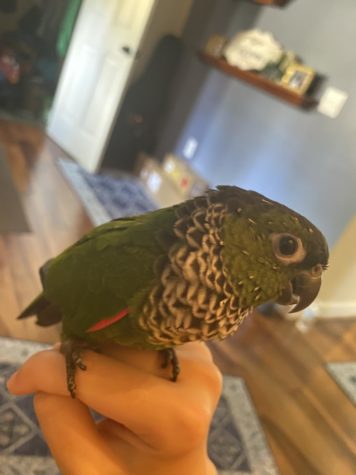 Dragon- Sophomore Olivia Zacarias
Dragon is a black-capped conure with tons of personality. He is loud and sassy. Once you start petting him though, he is a complete softy. Dragon was once quite the escape artist, so for his safety, he had his wings clipped and was somehow still able to fly so the procedure had to be repeated to clip more.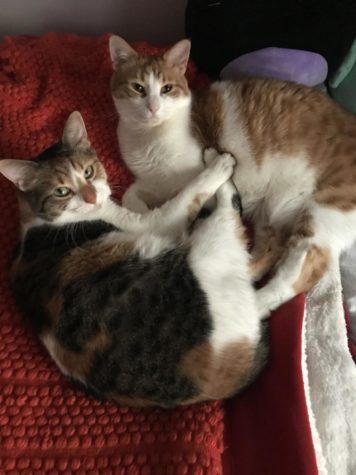 Cricket & Peppa- Sophomore Katie Llewellyn
Cricket is a goofy and lovable cat who's just happy to be around people. Peppa is really shy around new people but is really sweet. These two have lots of love to go around.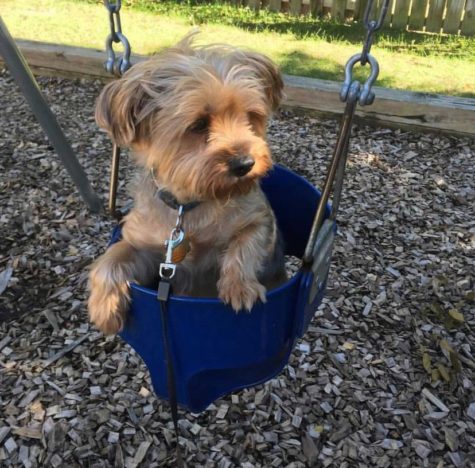 Bailey- Junior Miya Walker
Bailey is 9 years old. He loves to eat, take naps and play with his toys.
Assistant Staff Members
(Pets of staff of Crofton High School)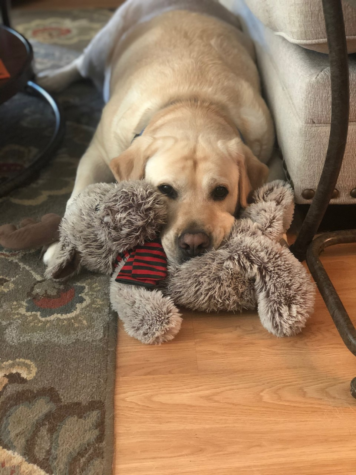 Bogey- Principal Ms. Kathryn Feuerherd
Bogey is a 9-year-old yellow labrador retriever. He gets his name from Mr. Feurherd who happens to be quite the golfer.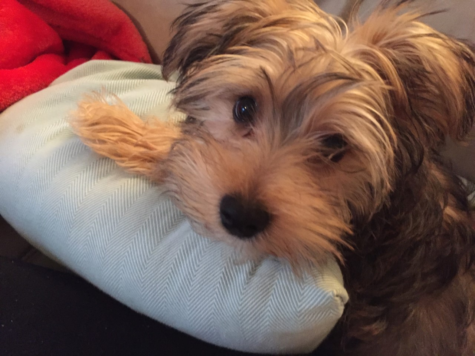 Nately- English and Journalism teacher Mrs. Audrey Ruoff (Cardinal's Nest Staff Adviser)
Nately is a Morkie aka a Yorkie/Maltese mix. He is desperate for love and attention and gets a little mischievous if he doesn't get it.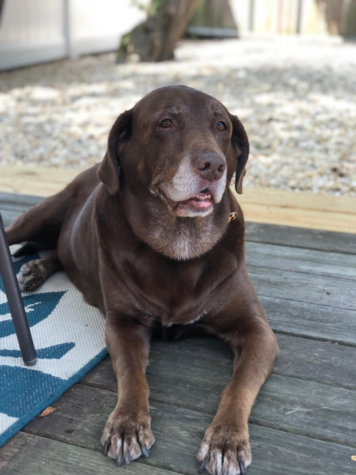 Gracie- Counselor Mrs. Amanda Bulman 
Gracie is an almost 10-year-old chocolate lab. Don't let her age fool you, she still has a puppy brain.  She is loyal, loving, and makes the couch more crowded than a Crofton High School hallway.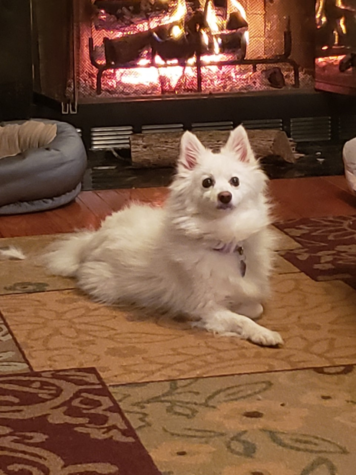 Cami- School Psychologist Ms. Heidi Tracey
Cami is a 13-year-old, miniature American Eskimo dog. She was purchased from a breeder in West Virginia. She's a sweet little dog and is very good with kids. She is always shedding so white fur is on everything in the house. Cami loves to relax on the back deck observing her neighborhood.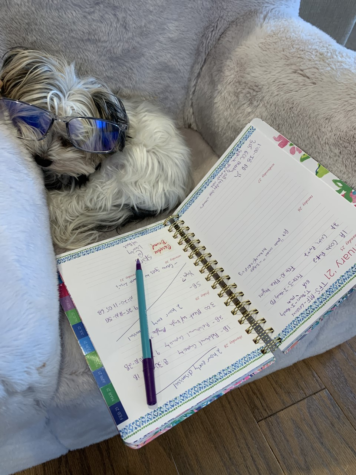 Buffalo- Social Studies teacher Ms. Margaret Snyder
Buffalo is a 6 and a half-year-old Biewer Yorkie. He loves car rides and prefers being carried in a bag rather than on a leash. He also loves running on the beach. Buffalo is super cuddly and would live on peanut butter and bacon if you let him.
Friendly reminder: As the holiday seasons approach us and the prospect of getting pets arises, remember to adopt or shop responsibly. Visit local shelters and SPCAs as well as reputable breeders. As always, do plenty of research before getting a pet, and be sure to look at the pet's life span so you understand the commitment you are making.