Crofton High's First International Night
On Wednesday, March 30th, Crofton High School held their first student-led International Night, displaying many cultures. Crofton students and families represented about 30 countries like Jamaica, Puerto Rico, and Pakistan. Many activities took place throughout the night such as Bachata dance classes, Tang Soo Do and a fashion show. Different countries had booths where you could learn about the culture, have some food, listen to music, and even get henna done. There were also food trucks available with foods from other cultures such as Greek baklava, Mexican Flautas, empanadas, and more. During the day, a culture fair also took place where students were able to walk around the school and look at some of the booths on display.
Arya Shah, a Crofton sophomore, had a booth representing India. She was wearing an Anarkali Suit,  a long dress and leggings paired with a dupatta which is similar to a scarf. She said, "I am lucky to have been exposed to my culture growing up and I'm proud to be able to share that part of my life with my peers." Her favorite part about learning about other cultures was seeing everybody in their traditional clothing because the colors were all so vibrant.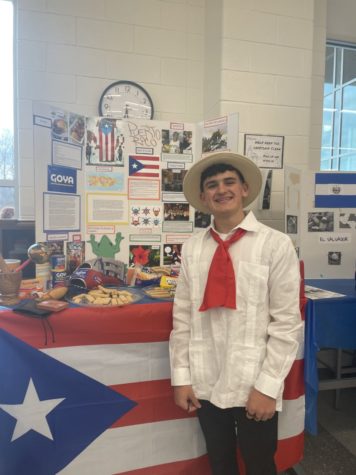 Crofton sophomore Adonis Soto had a booth sharing his culture from Puerto Rico. He was wearing a guayabera, which is traditional wear for Puerto Rican men. Soto shared that his favorite thing about the night was "how everybody came together to celebrate each other's cultures". He said that sharing his culture was exciting because he was able to give a taste of what Puerto Rico would be like if he visited. Soto's favorite part about learning about other cultures was discovering new music and being able to enjoy stuff he wasn't used to. 
Ms. Seebachan, one of the teachers who helped with the International Night said that her favorite thing about the culture fair was "how proud everybody was to represent their culture and how everybody was uniquely able to express their culture." She also shared that she enjoyed how each culture was able to interact with each other and how the night was student led. After the first International Night, Ms. Seebachan is even more excited about how next year's will look.