An Introduction to Crofton High School's First Black Student Union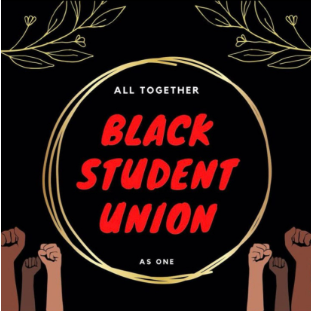 DISCLAIMER: Zoie Prandy is one of the secretaries for the Black Student Union
Have you ever felt invalidated and completely alone in your school community? How about desperately craving an atmosphere where your experiences and troubles are accepted and uplifted? Or maybe you're just interested in an open space that promotes advocacy, diversity, and inclusion. Lucky for you, a new page is turned this school year with Crofton High's first ever Black Student Union and it is all the hype.
Created by our very own students here at Crofton High School, BSU aims to offer Black students a safe outlet to express themselves, along with advocating and spreading awareness about Black culture and our needs in the community.
Black Student Unions can be traced all the way back to the Civil Rights movement, with the first Black Student Union being established at San Francisco State University in 1966. BSU was created to help uplift the Black community at a time of need, and empower them to take direct action. This played a major role in demonstrations and activism led by the civil rights movement through sit-ins, protests, and addressing inequality. BSU even led a militant struggle for minority rights at the University of Washington, which led to positive outcomes for Black, Hispanic, and Indigenous students. As a result of these successes, BSU's have been established all over the nation at many colleges and universities to further provide a safe space for black students to advocate, educate, and flourish as a community.
At Crofton, BSU will be organized in 3 tiers, the Executive Board, the Diversity Ambassadors Board, and the General Assembly. The executive board has already been affirmed with Arielle Johnson as the President, Symone Jackson as Vice President, Elon Redfearn as Treasurer, Zhaire Hager as Secretary, and Caitlin Alexander and Layth Carpenter as Social Media Managers.
The second tier is the Diversity Ambassadors Board, which has 10 seats and is under the departments of athletics, academics, activism, mental health, and the arts. There are 2 seats that pertain to each category fit for one boy and one girl, and all people in the diversity ambassadors board are required to be black. The third tier is the general assembly, and this is open to anyone who wants to join the club, regardless of race or ethnicity.
Club members are the only ones permitted to vote or run for a position, and each member will be able to vote for 3 seats of personal choice. In order to become an active member of BSU, you are required to attend a certain amount of meetings and events, and must sign an agreement stating that you understand the requirements and honor code of the club. The general rules and regulations of BSU is to promote productive and constructive conversation between one another, be open and accepting to differing opinions, and any rudeness or insolence will not be tolerated.
Many willing teachers and staff  wanted to be a part of this growing and thriving institution. Ms. Brandie Farmer, Ms. Nicole Schmidt, Ms. Melissa Smith, Mr. Martin Noga, Mr. John Watts, Ms. Danielle Crankfield, and Ms. Kenae Damon are the sponsors for BSU, and said they couldn't be happier to be a part of this newly established community. Ms. Schmidt shared in regards to helping establish BSU," I knew what it was like as a staff member, and didn't want the kids to go through the same experience and have the same feelings as me."
Arielle Johnson, President of BSU shared a similar statement, " I felt very alone entering a predominantly white school, so I reached out to Mr. Watts and Mrs. Crankfield in creating a black student union, and they led me to Elon and Symone who all shared this same feeling of loneliness."
Black student unions are important on so many different levels, because it opens a safe space where black students can have that sense of community and feel validated by their peers when residing in predominantly white spaces. Secretary Zhaire Hager shared, " To me, BSU is a safe space, I feel comfortable and happy when I'm there. I appreciate the atmosphere that we are building and it feels like everyone in the room is connected, even if I don't know everyone. It's somewhere I feel like I belong, and it's very welcoming."
BSU has a lot of exciting events to look forward to, such as fundraisers, field trips, seminars, movie nights, fashion shows, and more sponsored events. A bigger presence of BSU is also in the works for Culture Fair & International Night. Zhaire Hager expresses excitement for "fun activities" and "wanting a step team or stop n shake team." Arielle Johnson shares how she is looking forward to " a buddy system in which upperclassmen help out freshmens in the club."
This is simply just the beginning, and I can't wait to see what the future has to offer for BSU. I want to personally give gratitude to the black students and teachers who developed BSU for our school, and never gave up despite facing potential adversity and uncertainty. Thanks to you, all black students in our community have a safe space where they can be themselves and feel truly fearless.
BSU meets gold block every Tuesday in the cafeteria and is open to all students, so don't be afraid to show up and support. I know I'll be there, will you?